Flyash Bricks Making Machine
Auto matic machine with Hydraulic force which compacts the Flyash , cement and aggregate mixture to achieve the required strength and mass quantities.The pan mixer with heavy rollers effectively delivers homogenously mixed flyash based concrete. Flyash upto 70% can be used with our system and equipment technology. We have supply and commision more than 100 plants all over India.
Models
MBM 2
MBM 6
MBM 10
Size
Witout pallet
Capcity Per shift @100% Efficiency
9 x 4 x 3 Inches
4500
11500
19000
Force (tons)
40
60
100
Power HP
7.5
15
17.5
Available Sizes For all Models
9x4x3 Inches
8x4x3 Inches
9x6x4 Inches
Any other size can be manufactures as per Clients requirement
Note final output varies as per brick sizes
AS per capacity and Automation the mixing and Batching setup can be setup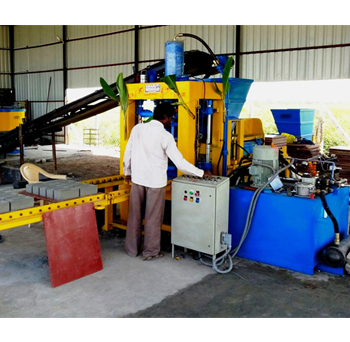 mbm 10
Weigh Batching and Mixing
• Aggregates of different sizes can be automatically Weighed and Transferred to Mixers
• Accurate and precise discharge assures consitant quality
• Pneumatic Operated Discharge Gates
• Robust structure to handle all aggregate types
• RHopper Storage - 2 /3/5 cubic meters
• PLC Controlled Operations
Pan mixer With Hydraulic Hoppers
• Fast and Homogenous mixing
• Heavy weight rollers for flyash based Mixing
• Hardened Liner plates for Longetivity and Durabilty
• Capacity - 250/500/750/1000 kgs per batch
• Hydraulic Hopper decreases the loading time thus increasing the throughput
• Hydraulic material Discharge Gates
• Heavy duty Gearbox for Maximum power delivery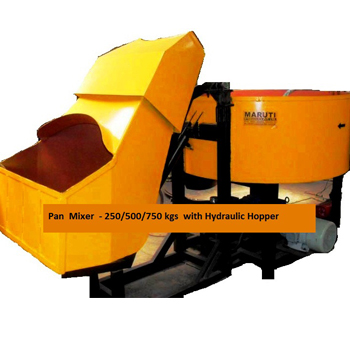 Automatic Brick Making Machine
• Advanced Vibration Technology with High Compaction force ,produces the best quality bricks, in the industry
• Force : 40/60 /100 tons
• Integral Vibrations with Variable frequency
• Hydraulic Cylinder with Imported Seals
• Industrial Grade Valves for continous operations
• PLC based automation center with Remote Monitoring System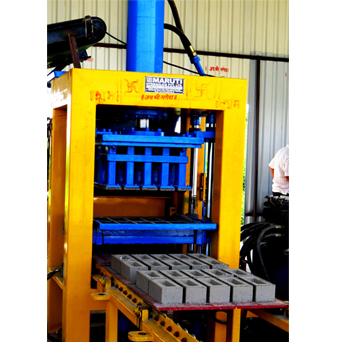 Belt Conveyor for Material Loading
• Heavy duty Endless rubber Belt with 3 ply support fast transfer of material from mixer to Brick Machine
• Robust Channel Frame, Mechanical Gear Box Drive
• Capacity :25/35/45 tonnes per hour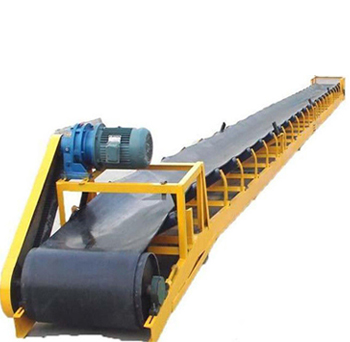 Hydraulic Pallet Truck
• Specially designed to Carry Big size pallets on any surface.
• Effortless movement of 8 Pallets in the factory area for curing, Loading and shifting
• Pneumatic Wheels
• Effortless lifting of Materials
• Capacity : 250 /500/750 kgs